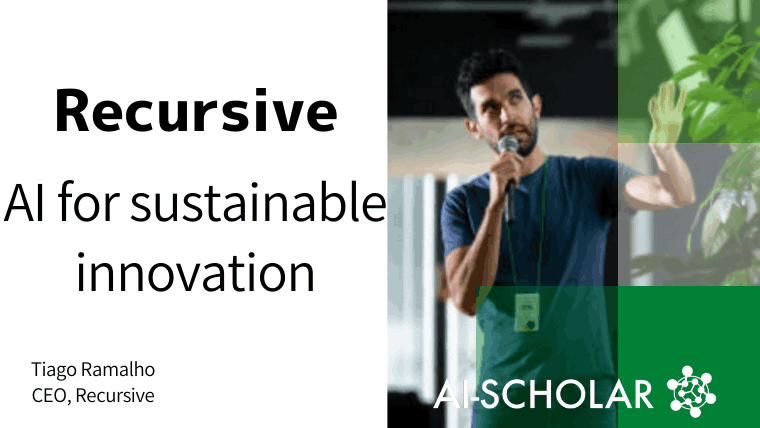 White Paper On AI Development And Its Application To SDGs
Company Profile
Recursive Inc. is a startup founded in August 2020 with the goal of achieving the SDGs through AI technology and business ideas. led by CEO Thiago from Deepmind, we are a group of professionals with expertise in AI. Currently, our business operations are focused on joint research with companies and the development of AI systems.
About the author
Tiago Ramalho

Originally from Lisbon, Portugal, Tiago Ramalho holds a Master's degree in Theoretical and Mathematical Physics and a Ph.D. in Biophysics from Ludwig-Maximilians University Munich. After graduation, he joined Google DeepMind. As a senior research engineer, he worked on cutting-edge projects such as reinforcement learn‐ ing, predictive models, and self-directed learning and published numerous papers in international journals such as Nature. He then joined Cogent Labs, a multinational Tokyo-based AI start-up, as a lead re‐ search scientist.
He is now the co-founder and CEO of Recursive Inc, a Tokyo-based consulting company focusing on helping companies implement cutting-edge AI solutions in the service of sustainability.
Background of the White Paper Release
As the world's population continues to grow, we face a range of global challenges, including environmental protection, social equity, and ensuring that no one is left behind in the transition to a digital economy. AI is an important technology that not only addresses some of these challenges but also helps to create entirely new and innovative approaches to achieving a more sustainable economy and lifestyle. AI is an important technology that can help create entirely new and innovative approaches to achieving a more sustainable economy and lifestyle.
On the other hand, the methodologies and information on how AI can approach such global issues are not readily available to the public. Therefore, as a Recursive expert in AI and SDGs, we decided to share our knowledge.
Materials
Click here to download.
Company overview
Recursive is a Japan-based company developing cutting-edge AI models with a focus on the SDGs, led by CEO Thiago from Google Deepmind and a small team of global specialists with deep knowledge of cutting-edge technologies and experience in various business startups. The company is made up of a small group of elite specialists who have experience in launching various businesses.
Company: Recursive / Recursive Inc.
Representative: Tiago Ramalho
Location: Ebisu Business Tower 10F, 1-19-19 Ebisu, Shibuya-ku, Tokyo 150-0013, Japan
Establishment: August 2020
Business: AI development, AI/SDGs consulting
Categories related to this article